Board Member Profiled
Learn more about one of our new board members!
Posted: Jan 29, 2018
Genie Jefferson was profiled in Seattle City Light's Weekly Newsletter, "Spotlight". The text of that article is shared below.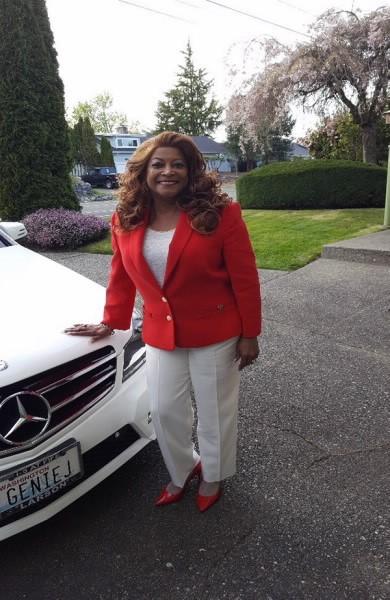 Genie Jefferson began her career with the City as a senior personnel specialist. She is now the division administrator for City Light's Energy Delivery Engineering group, a role she's held for 10 years. "My job is excellent, with a blend of both Human Resources, administrative and supervisory responsibilities," Genie shared. "I have the best of both worlds!"
Originally from Jackson, Mississippi, Genie attended Jackson State University, but completed her bachelor's degree in business administration at City University. She also has a masters' degree in human resources from Seattle Pacific University and a human resources certificate from the UW-Tacoma. A 45-year resident of the Pacific Northwest, she's lived in Tacoma the past 19 years. "I still love the area as much as I did when I first arrived," Genie said. "Between the scenery and climate and my family and friends, there seems to be an endless list of things to do!"
Genie's husband, Harold Moss, is the former Mayor of Tacoma and the first African-American to serve on the Tacoma City Council and as Mayor. She also has a daughter, Tiffany, and a granddaughter, Gianna. In this week's (spot)Light, Genie talks about her hobbies and commitment to public service.
"My husband and I love the arts. We're season subscribers to the Lakewood Playhouse and Tacoma Little Theater and travel throughout the region to see plays and concerts. Our next two shows include 'Hamilton' and the Branford Marsalis Quartet. We also enjoy entertaining with Super Bowl parties, summer barbecues and holiday gatherings. My friends and I have a Tea Group where we lunch at different tearooms in the Seattle-Tacoma area. This year, we'll venture to Portland and Canada. I also love playing Words with Friends and Scrabble. I play 20+ games during my commutes!"
"I've always been attracted to public service. I've worked at the Tacoma City Clerk's office, Pierce County, Clover Park Technical College, the University of Washington and the Tacoma School District. I chose this as my career path because I enjoy working with people. It feels good to assist people in their job search and helping them find viable solutions to stress-related situations."
"'I've always made it a priority to be involved in my community. I want to be active where I live; make a difference. I'm a second-term Board Trustee with the Tacoma Broadway Center for the Performing Arts and a Board Member for the Tacoma Historical Society. I'm also an active member of the Tacoma Black Collective, the NAACP and the Tacoma Urban League. For ten years, I served as a planning committee member of Tacoma's Dr. M. L. King Jr. Celebration. I also work with my husband on the Political Strategies Committee which interviews candidates for public office seeking the Black Collective's endorsement and with the Tacoma Urban League Guild, which is the fundraising unit of the League."
"Each of my positions has offered an opportunity for personal and professional growth. Now, I work with 150+ engineers and though it's a totally different world of people, I've managed to pave a path of many learning opportunities. Each day is a new day full of commuting from Tacoma (City of Destiny), a great management team and co-workers and an opportunity to learn something new. Retirement is not around the corner; I love my job too much!"
Thank you, Genie, for your boundless acts of service, both in your professional and personal life—it surely makes an impact!