THS Press
Publishing the shared history of Tacoma.
Tacoma Historical Society Press welcomes proposals. Publication under the name of Tacoma Historical Society Press requires advance review by one or more editors approved by the THS board and authorization by the THS board.
Please submit proposals or inquiries to info@tacomahistory.org or PO Box 1865, Tacoma, WA 98401.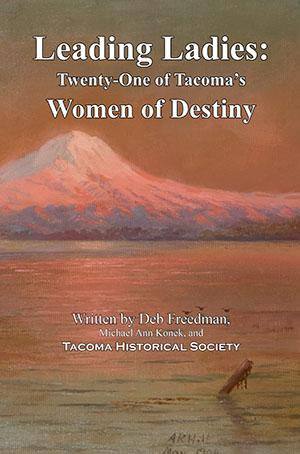 Leading Ladies: Twenty-One of Tacoma's Women of Destiny
Written by Deb Freedman and Michael Ann Konek
We love Tacoma. We love its history, buildings and people. Most of all we love Tacoma's stories. But many history stories are just that, "his story." We think it's time to start telling her story. This book honors twenty-one of the many women who have played a role in the history of Tacoma, Washington: The City of Destiny.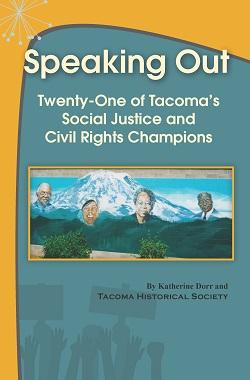 Speaking Out: Twenty-One of Tacoma's Social Justice and Civil Rights Champions
Written by Katherine Dorr, with research and editorial support from Tacoma Historical Society staff and volunteers.
The book is the latest in our '21 Tales' series, books which are intended to share important stories from Tacoma history with students in local schools. The book was published in conjunction with our 2017-2018 exhibit Dreams That Matter, which was funded by a grant from the Puyallup Tribe of Indians. The printing of copies to be delivered to all Tacoma elementary schools for use in classrooms is made possible by generous support from KeyBank.
Please see the links below for helpful downloads relating to the book, including the bibliography and discussion questions designed for teachers to use when integrating the book into their classrooms.
The video produced by the City of tacoma investigates how the U.S. and Tacoma region were shaped by racist laws, policies and discriminatory practices and argues these systems can only be dismantled through strategies of recognition, restitution, reconciliation and a sustained commitment to equity.

Courtesy of the Washington State Historical Society, this exhibition is an updated version of a project created in association with the Tacoma Civil Rights Project. It is written for middle school aged readers, but approriate for many different audiences.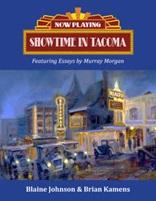 Showtime in Tacoma
Showtime in Tacoma by Blaine Johnson and Brian Kamens, featuring essays by Murray Morgan.
Tacoma's Dry Goods and Wet Goods: Nineteenth Century Jewish Pioneers
Deborah Freedman presents the previously undocumented history of Tacoma's Jewish community during the latter half of the 1800s.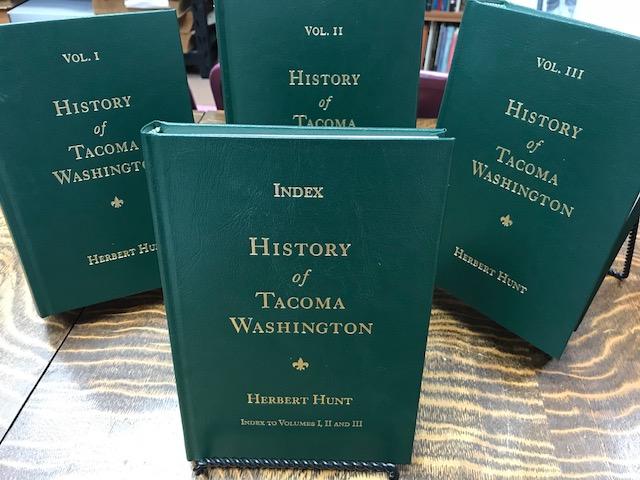 Tacoma, Its History and Its Builders; a Half Century of Activity
"Anyone wanting to understand Tacoma today must start with Herbert Hunt's history." - Caroline Gallacci
Who was this Herbert Hunt, whose name has become a synonym for Tacoma history?
"He had worked on newspapers in Indiana, Baltimore and other places before coming to Washington in 1905 as editor of The Everett Record. … That newspaper soon folded, and Hunt came here as city editor of The News. [He became editor in 1906.]
He was a scholar, a fast and tireless worker and was interested in nearly all lines of civic and cultural advancement. He died of cancer in [1918} at the early age of 48, but not before he had completed his History of Tacoma, a precise and invaluable record of events in the city from the beginning to 1916. "
Paul W. Harvey, Tacoma Headlines, 1962.
What historians have to say about Herbert Hunt's Tacoma, Its History and Its Builders; a Half Century of Activity:
"Herbert Hunt's adventurous story of Tacoma as it grew from a sawmill village to a world city is the finest narrative written so far. Hunt also gives a vivid account of the upper strata of Tacoma society."
- Gary Fuller Reese, noted Northwest historian and retired manager of Special Collections and the Northwest Room for Tacoma Public Library.
Copies of the original are hard to find and expensive.  With this THS re-publication:
You will receive three volumes of engaging history and detailed biography, plus a fourth volume, an expanded and improved index.
The reprinting is on durable, high-quality paper with hard-cover binding. It includes all the original illustrations.
The price for all four volumes is $99.00 for members of the Tacoma Historical Society in good standing. For non-members, the price is $110.00.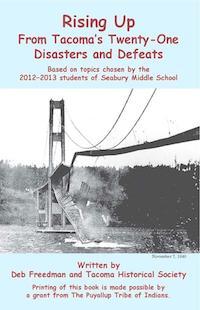 Rising Up from Tacoma's Twenty-One Disasters and Defeats
This 50-page book is a sequel to "Tacoma's Twenty-One Tales Every Student Should Be Able to Tell." Funded by a grant from The Puyallup Tribe of Indians.
Author's Note courtesy of Deb Freedman:
These stories cover a wide variety of topics, from relatively minor defeats to major disasters and tragedies. Several depict poor treatment of animals and even worse treatment of racial minorities. They are not meant for children to read alone, but as a means for starting conversations and learning.
The topics in this book were selected by 2012-2013 students of Seabury Middle School, and are not intended to rank as Tacoma's top twenty-one disasters. That list would likely include the loss of Native American lands or the hanging of Chief Leschi. I feel strongly that those subjects deserve a book - and a perspective - of their own.
Listen to Deb Freedman read the stories from the book in this audio playlist: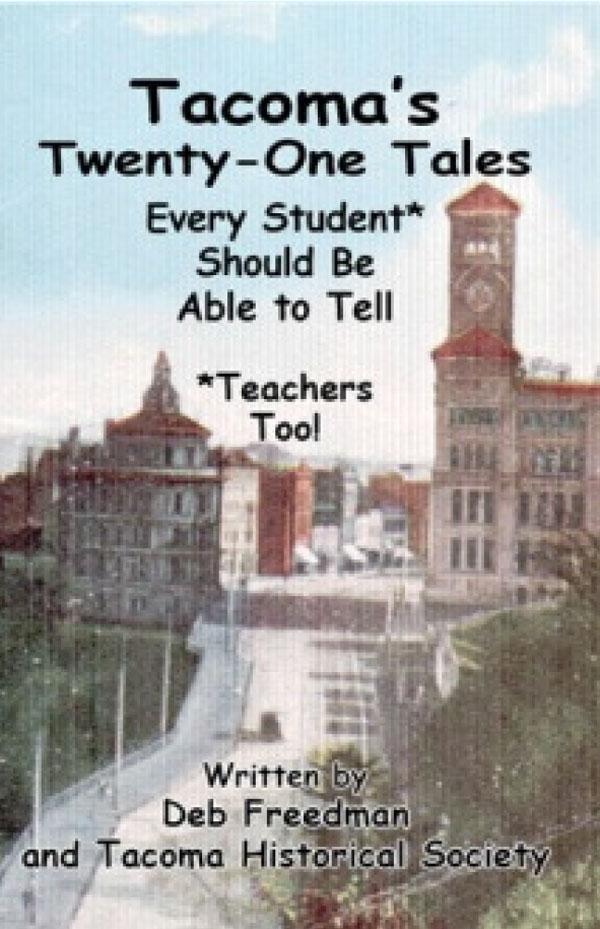 Tacoma's Twenty-one Tales Every Student Should Be Able to Tell
Aided by a grant from the Greater Tacoma Community Foundation, published in 2010