New Exhibit: Shutterbugs
A Century of Shutterbugs: Tacoma Photographers 1872-1972
Posted: Feb 19, 2018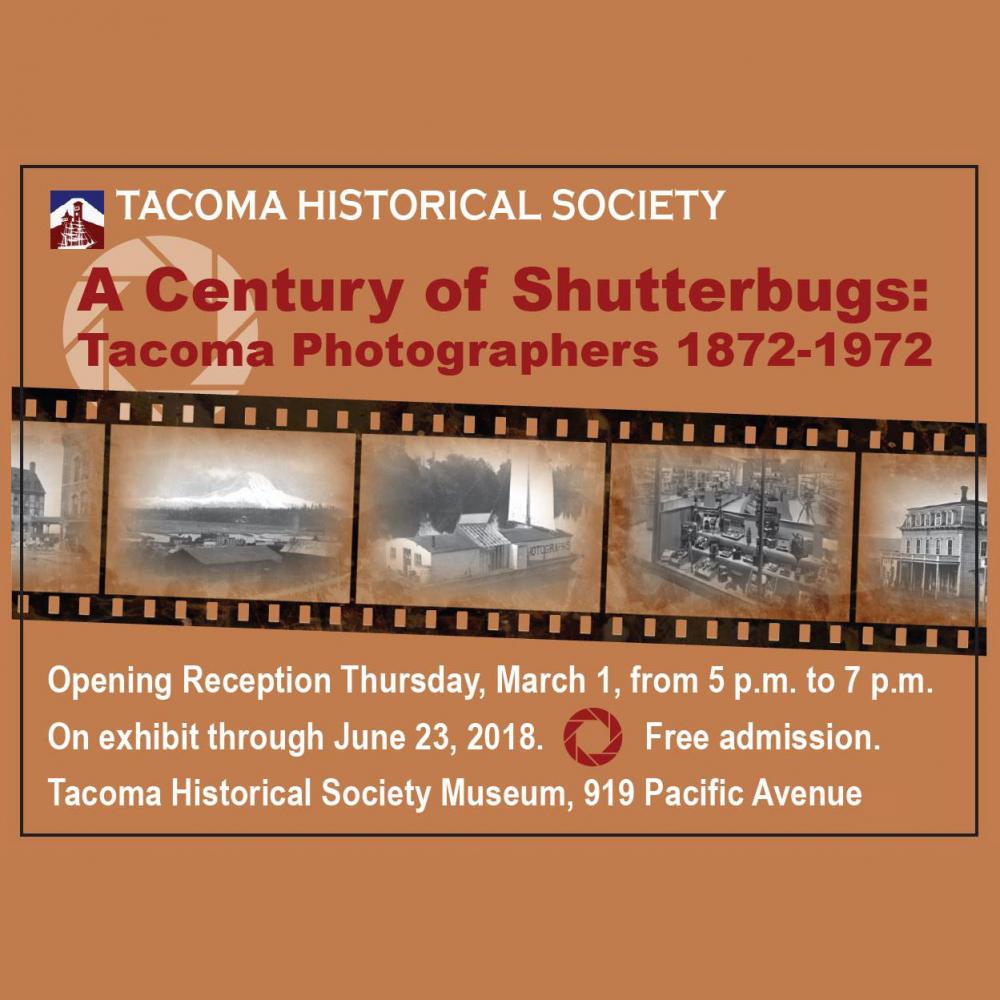 WHAT: Tacoma Historical Society will open its newest exhibit, "A Century of Shutterbugs: Tacoma Photographers 1872-1972," accompanied by an online database of the same subject.
WHEN: Free Exhibit Opening Reception: Thursday, March 1, 2018, 5 to 7 pm
WHERE: Tacoma Historical Society Museum, 919 Pacific Avenue in the historic Provident Building
DURATION: The exhibit will be on display from March 1 through June 23, 2018. Museum hours are 11 am to 4 pm, Wednesday through Saturday, or by appointment. Admission is free and donations are welcomed.
Photographs capture memories, while preserving details of people and places for future generations. Tacoma Historical Society's newest exhibit honors the photographers who recorded vital glimpses of Tacoma's first century – through their lives, their equipment, and their work. Developed by Ron Karabaich and Deb Freedman, the exhibit features a variety of historic cameras, equipment and photographs. Many were donated to Tacoma Historical Society by Karabaich, known for his work as a photographer, collector and proprietor of Old Town Photo. The exhibit includes a full-sized "selfie" back drop, adapted by Chris Fiala Erlich from a vintage Tacoma postcard.
The exhibit at 919 Pacific Avenue opens with a free public reception on Thursday evening, March 1, 2018, from 5 to 7 p.m. and continues through June 23. The Tacoma Historical Society museum is open Wednesday through Saturday, from 11 am to 4 pm, and by appointment. Thanks to a donation from McMenamins, Inc., and member support, admission is free.
The exhibit helps fulfill a final wish of the late Dr. Caroline Denyer Gallacci, noted historian and author. In 1995 Dr. Gallacci presented her partner, Ron Karabaich, with the results of her meticulous research - a notebook of information about Tacoma photographers and studios. Painstakingly culled from city directories, her findings included dates of operation, addresses, and key individuals spanning the years 1872 through 1955. One of her wishes before her death in July of 2016 was to see the information shared in some way.
Dr. Gallacci's detailed catalog, expanded through 1972 to include over 450 photographers and studios, is now available as a searchable database on the THS website: www.tacomahistory.org/original-research
The site also includes a chronology of Tacoma candy manufacturers and will soon host a growing database of Tacoma's many champions of civil rights and social justice. Development of the online databases was supported by a generous grant from the Lindberg Family Foundation.
Tacoma's first photographer, Anthony Carr, captured construction work on his father Job's cabin. Several early photographers were hired by the Northern Pacific Railroad to promote the young territory. They found creative ways to transport their equipment – on barges that floated from town to town, and even on railroad cars. Later photographers established studios that operated in Tacoma for decades, preserving images of families, buildings, city views – and even falling bridges - that historians today dissect for clues.
Women were active in the field of photography - from working with their spouses to operating their own studios. The most well-known, Virna Haffer, used photography to create art, experimenting with light and shadows. She was influenced by her apprenticeship with Harriet Ihrig during her teens. "I was surprised to learn of an even earlier female photographer, Hattie King, who took views in Tacoma in the early 1880s," said exhibit curator Deb Freedman. "Although her work is represented in several museums in the Northwest, very little biographical information was available. We've been able to learn that she was born Harriet Feenendall in Minnesota in 1861. She lived nearly her entire adult life in Tacoma." David Martin will present a program about Haffer on March 12.
Following the opening reception on Thursday evening, March 1, the exhibit continues through June 23, 2018, with free admission. Additional programming will follow throughout the spring. Visit the Society's web site for a current schedule.