Remembering Jerry Ramsey
Posted: May 18, 2023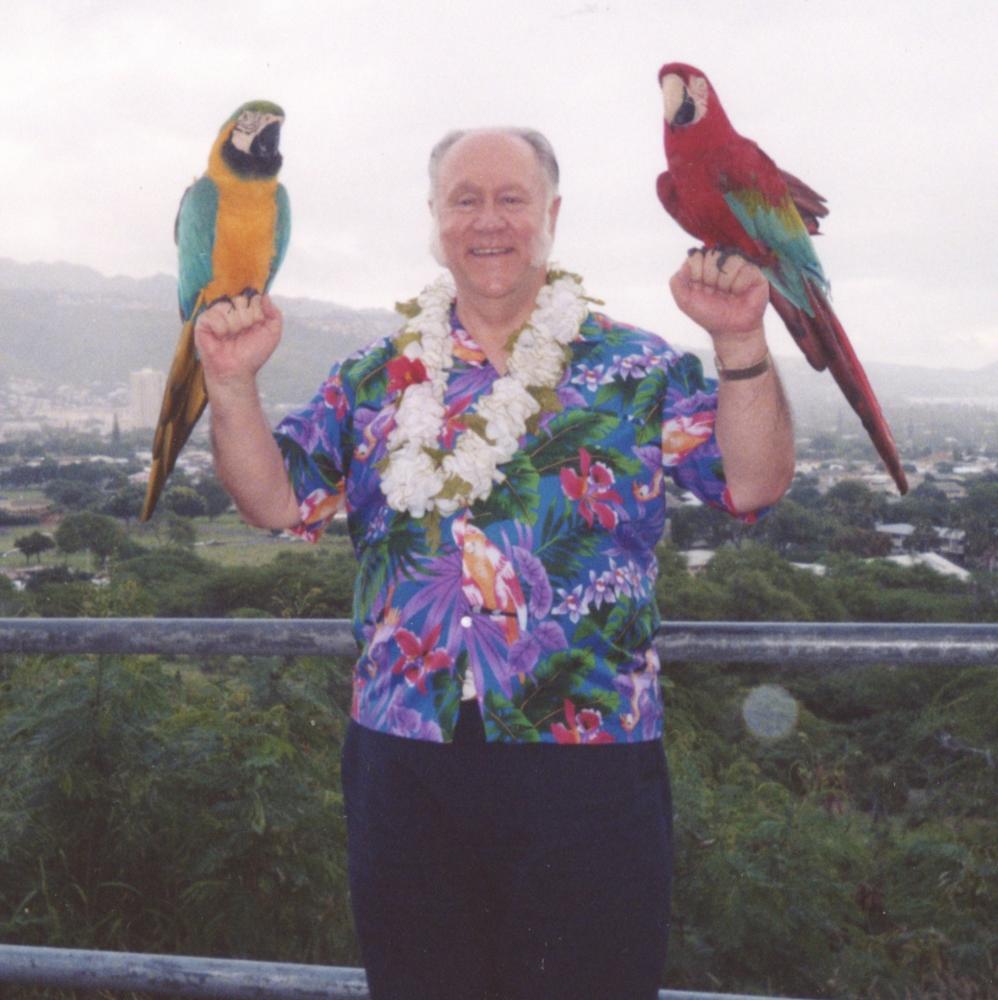 Board members, staff, volunteers and friends of Tacoma Historical Society are honoring the memory of longtime friend of the society, Jerry Ramsey, who passed away in April 2023.
Dr. Jerry Virgil Ramsey (July 1940 - April 11, 2023) was born in Tacoma, the eldest son of Winifred (Carothers) and Virgil Ramsey. He attended Stewart Junior High and Lincoln High School. After serving in the Air Force, he received his BA from the University of Puget Sound ('67), followed by a M. Ed at the University of Washington, and a PhD in pedagogy at Columbia Pacific University. Over a thirty-year career, Dr. Ramsey taught at all levels, from elementary to graduate. He was also a prolific local history researcher. His 2015 book Stealing Puget Sound won a Pinnacle Book Achievement Award.
Jerry married Elaine Sigrid Perdue in 1967. The couple's only child, Jason Ramsey, was born in 1973. Jerry and Elaine were active in the First United Methodist Church, and supported the Special Olympics, Kiwanis, and the University of Puget Sound. They also enjoyed sailing their boat Misty Isle with the "Hooligan Yacht Club," and participated in the Mt. Rainier Cruisers. Both Jerry and Elaine volunteered at the Tacoma Historical Society, the Lemay Car Museum, and at Fort Nisqually Living History Museum, where they were jointly honored as Volunteer of the Year in 2004. Jerry also received the Tacoma Historical Society's 2014 Murray Morgan Award for contributions to local history.
Dr. Ramsey's final project for the Tacoma Historical Society was a narrative about his grandparents' journeys to Tacoma on the Northern Pacific Railroad. This work is currently on exhibit in the museum.
Jerry V. Ramsey was predeceased by his wife, Elaine; son, Jason; and by his parents.
Tacoma Historical Society remains indebted to Jerry and Elaine for the endowment they established for THS through the Greater Tacoma Community Foundation. Click here to donate to the fund in honor of the Ramseys.
Our current board president, Jim Catalinich, shares the following thoughts about Jerry:
Jerry Ramsey and I were colleagues at Stadium High School in the mid 1990s. He was the consummate professional. He came to work in a sport jacket and tie daily. He was dedicated to his students. Jerry wanted all of the students to understand the importance of history. I remember many conversations about history and methodology outside of his classroom. He was always willing to share ideas, listen, and make suggestions. Then Jerry retired and I was no longer in touch with him.
Debbie Winskill cajoled me to attend meetings with the THS Friday Historians in 2017. Wow, what a pleasant surprise. Jerry was there! Same Jerry! Gushing with enthusiasm for history. Always open to new stories and sharing stories of his own. He had that same warm smile and laugh. I attended the meetings to just hang out with Jerry and learn from him. Then came the pandemic closures and I didn't stay in touch.
I visited Jerry last December. I wanted to learn about the endowment that Jerry and his wife, Elaine, established and provided the seed money for. I wanted to solicit his ideas and perspectives for the THS. But most importantly, I wanted to connect with Jerry. I learned that he was busy doing research and working on a new book. His mind was very active. It was remarkable because his body was deteriorating. He shared with me the depth of his Christianity. Jerry missed his beloved Elaine. He shared his love and appreciation for his mom and dad. Now Jerry has left us. I am sad for the loss his death will have on THS and the greater historical and philanthropic communities. Yet, Jerry's strong Christian belief informed him that death will reunite him with the love of his life, Elaine, and his parents. Thank you, Jerry, for all you have done for our community. Rest in peace.